How do I attach a ZOLL ECG to the Pulsara case?
Note: The ZOLL ECG Integration will need to be enabled by one of our system administrators. Please reach out to your Pulsara Client Services Manager for assistance or email us at help@pulsara.com. This feature is available with Pulsara version 10.3 or higher and is presently compatible with ZOLL X-Series monitors.
If you are a Pulsara EMS user, you can preconfigure the monitor assigned to your unit when you log in to the Pulsara app. Here is an example of how to do that...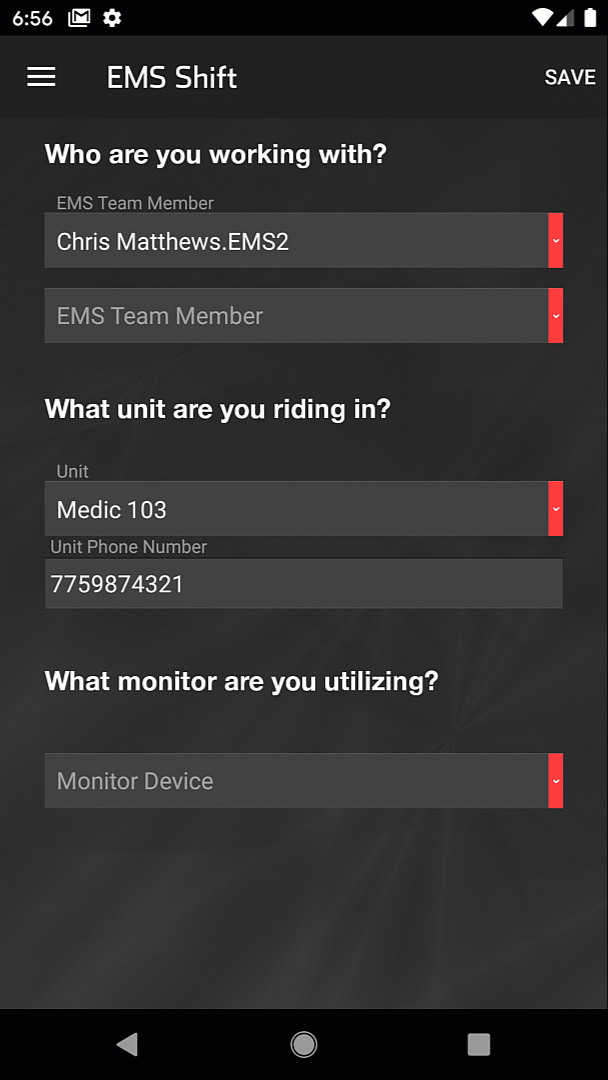 The following steps outline the process of attaching a ZOLL ECG (see animation below for example):
Tap the "ECGs" button. Multiple ECGs may be attached to a single event at one time or at different times.
Choose between "Monitor" for attaching a ZOLL ECG or "Camera" to snap a photo of an ECG printout with your device's camera.
If "Monitor" is selected and Shift has been previously set up, monitor events that meet the set criteria will automatically appear.
NOTE: Changing the following criteria will update the query and could yield different results:
"Transmitted Within" time window is defaulted to 30 minutes, but can be updated to search the last 1 hour, or the last 2 hours. The goal is to only show the most recent event for that monitor so that the User doesn't have to scroll through several monitor events prior to attaching, but it's flexible enough that you can search a larger window if necessary.
The "Monitor Device" field can be updated here to reflect a different Zoll X-Series device if necessary (something has changed from what was originally set up in the EMS Shift, or nothing is set up in the EMS shift). NOTE: Changing the value here does not currently update the Shift Setup Screen.

You may wish to change the monitor here if, for instance, you are now in the ER doing a bedside 12-Lead ECG with another Zoll X-Series monitor.

Validate that you have the correct ECG for the right patient

Patient ID - ID provided by the X-Series and can be used as a reference
Name - If entered into the X-Series, the First and Last Name will show up here
Date of Birth - If entered into the X-Series, Date of Birth will show up here
Acquired At - Is the Date and Time the device acquired the 12 Lead ECG. This provides a good time reference in relation to the Patient's event for matching purposes
Received At - Is a Date and Time the ZOLL Cloud received the 12 Lead ECG. This is the specific time that we are using to query the "Transmitted Within" time window and is the primary field in relation to the Patient's event for matching purposes
The 12 Lead image - Pressing on the image allows you to zoom in and out helping to further validate you are associating the correct ECG.

Attach - Attaching the ECG is the final step. When complete, a numbered badge will show up on the ECGs button identifying the total of ECGs attached to the case.

Alerting:
New patient - No ECG alerts are sent when added to a New patient. The team will receive the ECG once the primary alert is sent.
Existing and Recently stopped Patient - Secondary alerts will be sent when attaching an ECG.
There you have it — our ZOLL ECG integration feature in a nutshell! If you have additional questions on attaching ECGs, please contact your organization's Pulsara Administrator, or reach out to your Pulsara Client Services Manager at www.pulsara.com/help.
Disclaimer
The Pulsara applications are intended to facilitate communication for and accelerate preparation of acute care coordination. The applications are not intended to be relied upon for making diagnostic or treatment decisions or used in connection with monitoring a patient.
Bringing together our innovative PULSARA PLATFORM with our Internet of Lifesaving People™ advisory services to promote streamlined workflows and positive change management to enable Internet of Lifesaving People™ real-time communication and information sharing for healthcare teams.
Copyright © 2019 Pulsara.com. All Rights Reserved