Being on-call at multiple facilities
Pulsara users are often on-call at multiple hospitals. The Pulsara Administrator at the second (or subsequent) hospital must send you an invite.
When you provide your administrator with the email account used for your existing account, please make sure you provide them with the case-sensitive email address, meaning that if your existing account is:
Firstname.Lastname@email.com
this is not the same as:
firstname.lastname@email.com.
Make sure to click the link for "Complete Your Account" (highlighted below)...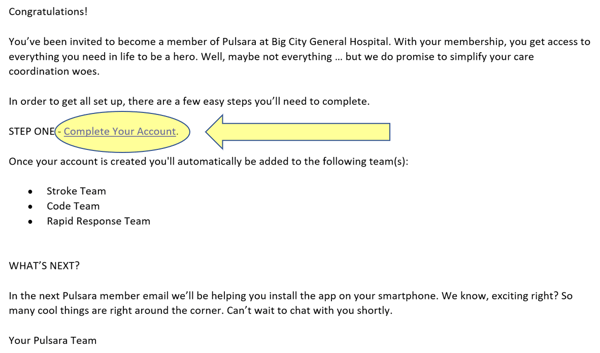 Once you have accepted an invite in your e-mail from any additional facility, log in with your existing user profile. The Pulsara Administrator for the new hospital simply approves the request you accepted. You will not be able to set your on-call status until the Administrator completes the approval on their end.
NOTE: Please do not click the "Create Account" link and create a new user profile as there is no way for Pulsara to link multiple profiles together...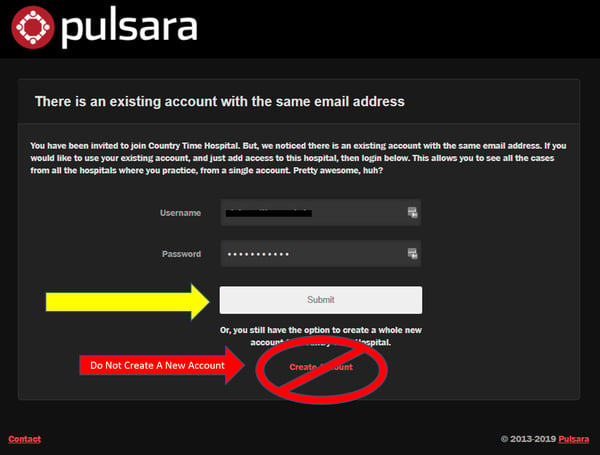 After the admin has approved you as a user at your second or subsequent facility, you will log in to the Pulsara app as you usually do. Under the header "My Call Status", you will see that there is now more than one facility after your primary facility. Tap the name of each facility you wish to activate your on-call status for and swipe your call status from "NO" to "YES". If you cannot see the names of each facility, swipe sideways across the facility names to see additional facilities. See this example below...

If you have additional questions about placing yourself on-call for multiple facilities, contact your hospital's Pulsara Administrator or your Pulsara Client Services Team at www.pulsara.com/help.
Disclaimer
The Pulsara applications are intended to facilitate communication for and accelerate preparation of acute care coordination. The applications are not intended to be relied upon for making diagnostic or treatment decisions or used in connection with monitoring a patient.
Bringing together our innovative PULSARA PLATFORM with our Internet of Lifesaving People™ advisory services to promote streamlined workflows and positive change management to enable Internet of Lifesaving People™ real-time communication and information sharing for healthcare teams.
Copyright © 2019 Pulsara.com. All Rights Reserved