How to reset password and pin from the mobile application.
From the mobile app login screen, you can click on the Forgot Password? button in the lower right hand corner.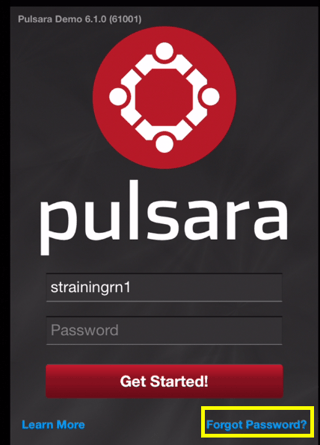 This will prompt you to enter your username then hit next.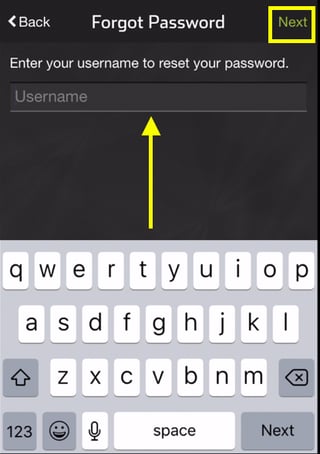 You will be sent an email with a link to reset your password. The link will take you to this screen.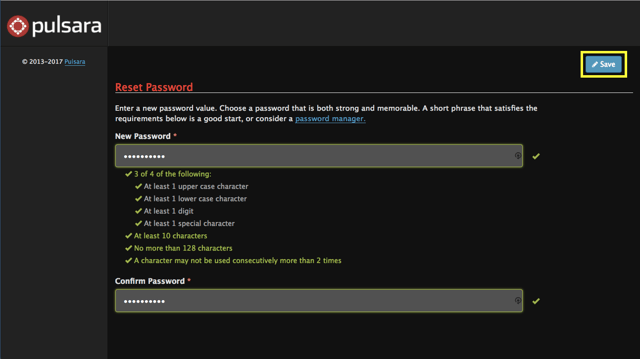 Fulfill the requirements for your new password and hit save in the upper right hand corner.
Alternatively, you can ask your Pulsara Hospital Admin to send you a password reset link directly to your email on file.
If at any time you are still unable to reset your password, please contact our 24/7 support team.
NOTE: For clients using Federated Authorization, this will not apply.
To Reset your Pin, log out of the application and log back in. On first login, the Pulsara application bypasses the pin screen and will take you directly into the application. You can then navigate to the settings page from the side navigation panel. Within this section, you can reset your pin using your new password you created.
Do you have additional questions concerning this? Please feel free to reach out to your facility's Pulsara Administrator, or contact the Pulsara Client Services Team at www.pulsara.com/help.
Disclaimer
The Pulsara applications are intended to facilitate communication for and accelerate preparation of acute care coordination. The applications are not intended to be relied upon for making diagnostic or treatment decisions or used in connection with monitoring a patient.
Bringing together our innovative PULSARA PLATFORM with our Internet of Lifesaving People™ advisory services to promote streamlined workflows and positive change management to enable Internet of Lifesaving People™ real-time communication and information sharing for healthcare teams.
Copyright © 2019 Pulsara.com. All Rights Reserved