Alert Rollover Feature
Alert Rollover allows the primary Pulsara alert to rollover to a pager. It is a backup system for our standard push alert notifications on mobile devices. If enabled, a user has the ability to have a backup page sent to their pager at the same time as any primary notification for a new patient. This system is designed to be a back up only, not a replacement to the application.

Contact the Pulsara Customer Services Team to enable Alert Rollover at your facility. Once enabled, you can view your Alert Rollover settings and update the message details. The page can be configured to display numeric codes + text or numeric codes only. The alert page can also be configured to alert simultaneously or 60 seconds after the mobile app alert. You will need to enable Alert Rollover for each end user who wishes to consume the feature.

Preview the animation below to learn how to manage the alert rollover details and enable alert rollover for an end user.
Our system uses Simple Mail Transfer Protocol (Email) to send the Pulsara notification to your paging system.
Requirements:
Paging system needs to be able to send a page in response to an email.
User has to be logged into and on call in the mobile application.
Administrative set up from the dashboard.
With rollover to page, there are two ways in which we can set it up for each user. The first is to have the page sent immediately at the same time as any primary alert (the notification you receive from a new patient). The second option is to have the page sent 60 seconds after the primary alert is sent. With this second option, if the primary alert is acknowledged on the phone within 60 seconds, the page will not be sent.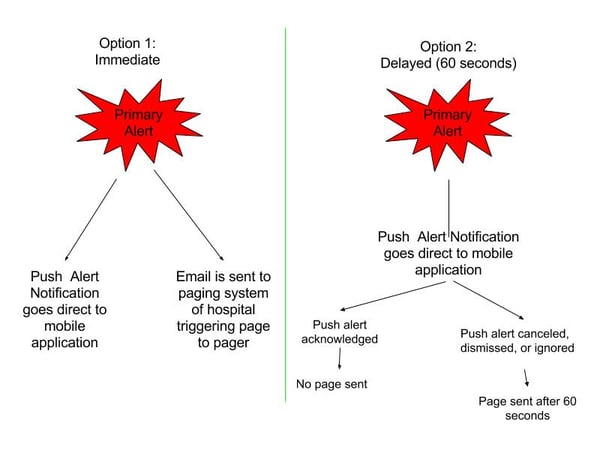 What is needed from the hospital side to enable this feature.
List of users of whom you would like to set this up with and their respective pager email.
If the pager system can handle text, what verbiage you would like for the new page.
Immediate or delayed page