Facilities that have their Stroke Designation in Pulsara MANAGER set to Neurovascular Intervention Capable will be able to view and edit additional fields for Neurovascular Intervention.
A Pulsara staff member is required to change the Stroke Designation of a facility in Pulsara MANAGER.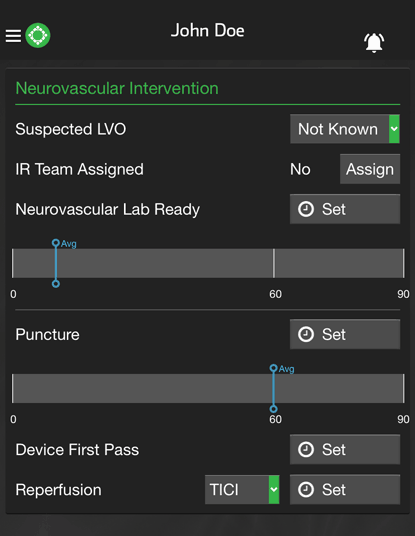 When Suspected LVO is set to YES, a primary notification may be sent to new team(s) subscribed to these alerts depending on team settings and a secondary notification will be sent to any existing team members on the channel.
If the IR Team has already been assigned, the IR Team Assigned field will be set to Yes. Tap the Assign button for quick access to assign the team.
Setting the time for each milestone during the stroke case will allow more accurate analytics for Teams using Pulsara to enhance their Stroke care.
Reperfusion scale options include:
TICI 0
TICI 1
TICI 2A
TICI 2B
TICI 2C
TICI 3