Note: Transfer relationships need to be established with another hospital in Pulsara MANAGER for the Transfer button to appear.
A hospital can Transfer a patient after a patient channel has been created and ED Arrival Time has been set.
From your active Pulsara patient channel, scroll down to the Requests section.
Tap the Transfer button.
Tap Destination to select the facility you would like to transfer your patient to.
Below the Destination, you may notice instructions that the receiving facility has chosen to include to assist you in completing a successful transfer.
Ensure you read these instructions before saving your transfer request.
The phone icon provides the Transfer contact number at the destination facility. Tap it to begin a phone call if needed.
When you are ready to complete the request, tap Save in the top right corner.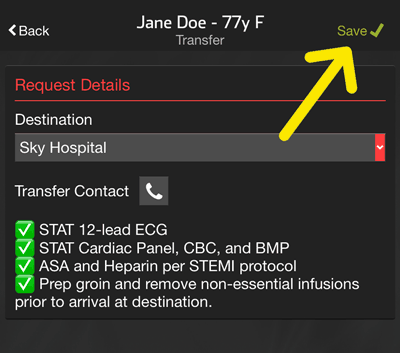 Now, you will receive a notification asking you to confirm. Select Share to confirm the request and share the patient information.
The destination facility will receive a notification notifying them of your transfer request. They now have the ability to review the case details and determine whether or not they will accept the transfer. Note: Accepting a patient transfer in Pulsara does not take the place of formal, legal acceptance procedures.
The facility that received the request also has the ability to communicate directly with you and the care team at the requesting facility to gather any additional pertinent patient information.
Once the receiving facility has accepted the transfer request, all members of the care team at the requesting facility will receive the following notification:

The Requests section will update showing that the transfer has been accepted.
At this point, you can proceed with your established patient transfer process.
The Transfer row in the requests section can be tapped to show additional information about the patient at the other facility, including Registration Number, ED Arrival Time, and Room Number.
The Patient will move to the Outbound Transfer Accepted section of the Patient List.