To handoff Patients to EMS for transport, a Pulsara Admin will need to add a relationship to the EMS agency allowing the handoff between your hospital and the transporting EMS agency in Pulsara MANAGER.
To transfer your patient to another facility using Pulsara and include EMS in the Patient Channel, first initiate a transfer request to the receiving facility.
Your facility will arrange for EMS transport via your existing transport request process.
Note: Currently EMS must be contacted outside of Pulsara either by phone or radio.
Once EMS agrees to transport, add EMS to the patient channel by tapping the Handoff button in the Requests section.
If the Handoff button is not visible, a Handoff Relationship has not been established for the current Patient Type between the Hospital and the EMS Agency.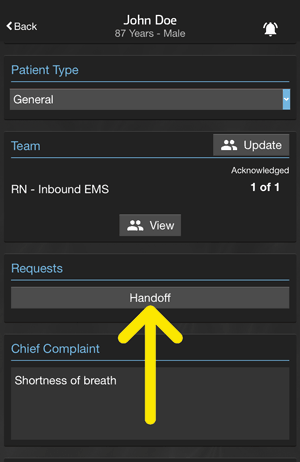 Tap the Agency selection menu, select the EMS agency from the list of options and tap Done.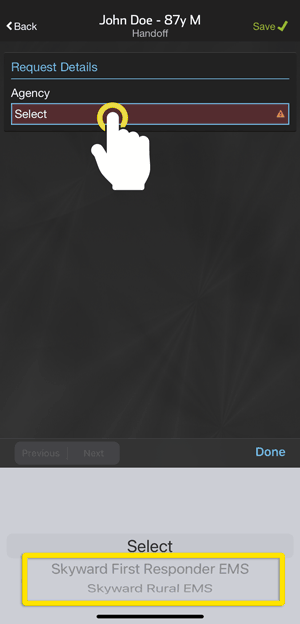 Selecting the Unit is optional, but is strongly recommended so that EMS can immediately receive alerts and see the patient on their My Patients list.
Tap Save in the upper right.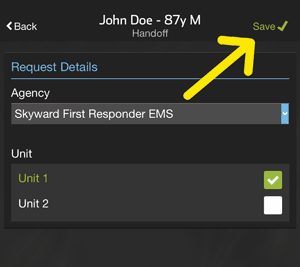 Tap Share to confirm the Handoff request and share the patient details with the EMS agency.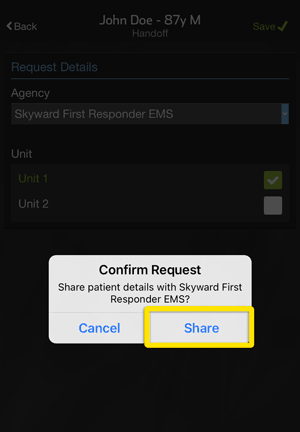 The Requests section will update and the transporting EMS agency will be listed.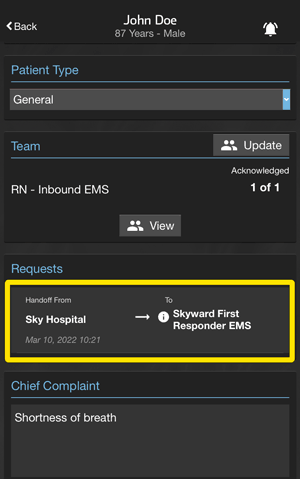 The next step in the transfer process is for EMS to add a Transport to the destination hospital. This is the same hospital that received the Transfer request above.
When adding the Transport, EMS specifies ETA which means the destination hospital has accurate information communicating when the patient will arrive.
After the Transport request is added, the receiving facility will receive a secondary alert in mobile indicating the patient is on its way and the initiating facility will receive a Transfer accepted alert. Now all three organizations will be in the Patient Channel and be able to communicate as needed.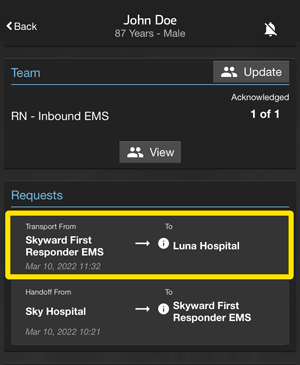 Tap the View button to view acknowledgement status and communicate with the care team including all entities involved in the transfer.