Flowchart Notes can be created on the fly or from a pre-existing template, within the Pulsara mobile app or Pulsara HQ. This article explains how to create reusable templates to facilitate guided data collection.
To create a new Note template, login to Pulsara MANAGER as a Hospital or EMS Administrator.
Under the Hospital/EMS section of the main navigation, choose Flowcharts.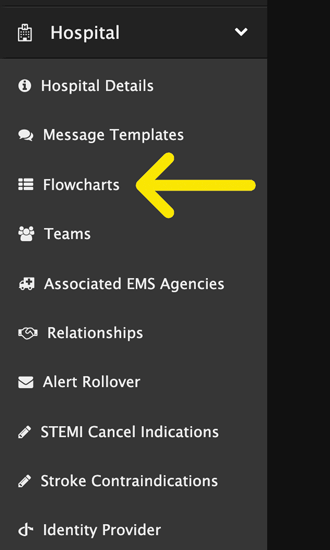 Click on the + Template button on the right side of the page.

Enter the Note title, Alert Text, and optionally, the Body of the Note.
When a template is added to a patient, the Note Title will appear as a new line item in the Flowchart Note section on the patient channel. The Body text is visible when an individual Flowchart Note is viewed.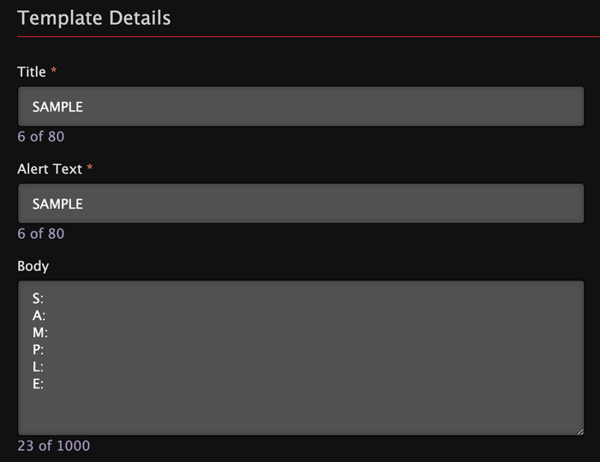 Choose 'Yes' to make this template available for All Patient Types, or select specific patient types to have this access to this template.
When templates are added to a patient channel, all team members will be able to view them, however, by default, templates are not shared and available for other organizations to use. To allow template sharing, select Yes.
By default, templates are set to Private. Notes using a private template are available to be viewed by all care team members when added to a patient channel, regardless of organization, however, edits are limited to only care team members at the organization that created the template.
If a template is set to Public, notes created using the template can be edited by all members within a patient channel, regardless of organization. To set a template to Public, select Yes
NOTE: Edit logs for note changes are only visible by an admin from within Pulsara MANAGER.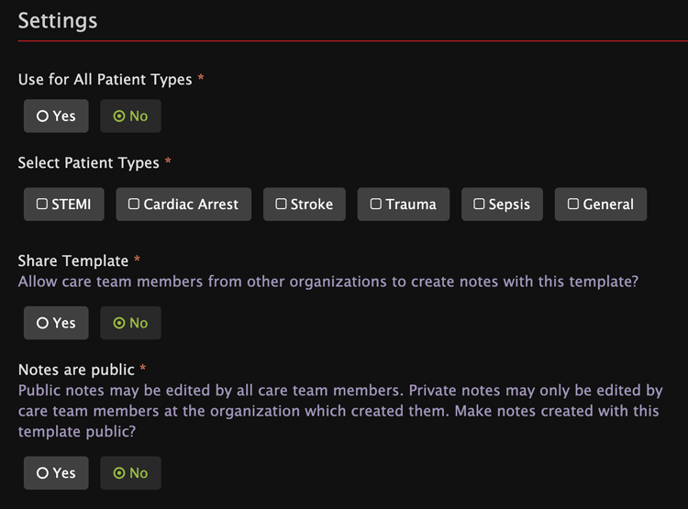 Save the Note Template using the button in the upper right.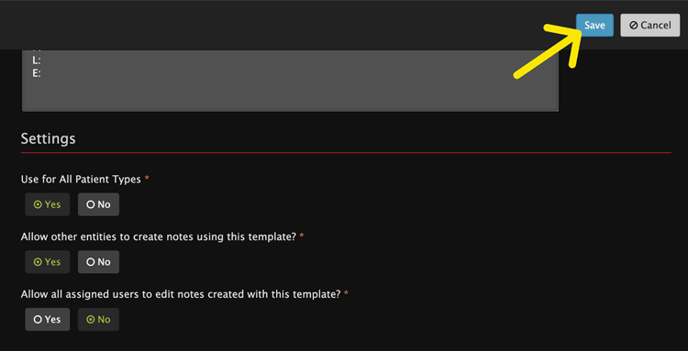 The list of all Flowchart Notes templates will display.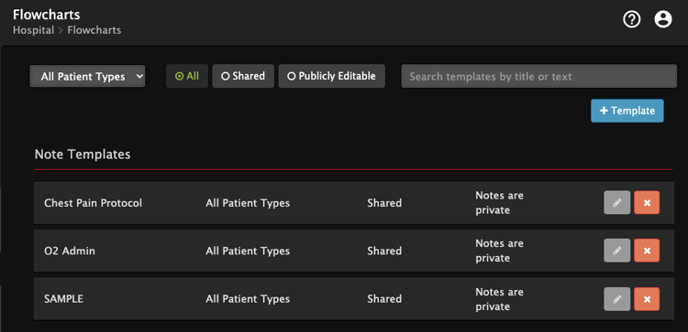 Hover your cursor over the Note permission columns to view a tooltip explaining what each permission allows.
Once your templates are created, teams can add a Flowchart Notes template in the mobile app and view them in Pulsara HQ.

See our guide to using Flowchart Notes in mobile.